MrAnnex & The Grand Distortion
Apr 25
The Grand Distortion Show (tune in now)
Just a quick note for those into some rock, indie, punk, electro… I'm hitting the airwaves and internet live in five minutes on http://www.party934.com & 94.9 FM Hudson Valley New York with my show "The Grand Distortion". Every Wednesday at 6-7am PT / 9-10am ET. Today I'm playing new Matt Skiba & The Sekrets, Rise Against, Ben Howard, The Limousines, and more! 
Apr 02
Ah the newness of old.
Well I've updated the blog title and such. Linked some of my sites and so forth. Here's the new beginnings. Yeah not much of an update but more to come. 
I read earlier in an article on the disinformation site about people being "forced" to be their true self on websites. My thoughts are… as truth has it… no one is forced to do anything. One only enters into any endeavor by acceptance. 
Chew on that.
Cheers :)
Feb 26
While watching, one can't help but think about melting down. Lovely.
Aug 05
Redefining Radio with Rdio
Well for the techno savvy and for that matter in the know about new services like Rdio this is might look like another one of the many falling into the same categories as the usual offerings like Last.fm, Blip.fm, or even Pandora…
Rdio offers ulimited listening of their entire catalog for only $4.99 / month. Advanced service will cost you just a mere $9.99 / month. Those advanced features include streaming over 3g and sync with your mobile devices like the iPhone. Not too shabby IMO.
Site wise… lots of redundancy wrapped up in a not so intuitive interface. Seems again like the Tech peeps have their hands on the music industry and as a result more tech than ease of the user interface. Of course this is my opinion but I've had this conversation with a handful of people that feel the same way. Also, music selection is pretty geared towards the majors… granted I could still find what I wanted to an extent. But finding something that I thought I may not be able to find, then going to stream it, and finding that they just have all the album details up leads you to think that you have scored… but no cigar. This happened with quite a few albums or artists that I searched for. Why have it listed then?
Also this service seems attractive for people that don't want to pay for much music as a whole. Why so many buy links? I can go on itunes and load up my ipod or some other service for that matter without having to pay for the right to do so.Album artwork or titles didn't match up on a lot too… hmmm?
Ok well overall I love what they're doing. Will I pay $4.99 / month? Maybe not just yet… there are tons of music subscription services out there and this model is just getting warm. We'll see where it leads. I like the social aspects of sharing albums and songs too, though paying to do it? Maybe not. Blip.fm has that covered well.
For music streaming this is an A+… I may dig in with the iPhone app since I deal with mobile media so much. I'll update on that later.
Cheers to Rdio and I think it's worth checking out!
I'd like to see artists/labels who aren't Universal Republic or any other token major label, being able to submit to get on the service and also a better web client UI…
.m
Thoughts on designing for the iPad. -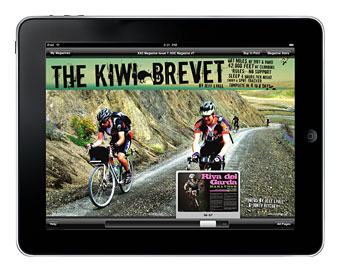 A short article on design for the iPad with a definite progressive view. I'm glad to see that people are seeing this as a move forward and further with tablet's in general. Enjoy the read.
Jul 30
On the journey today.
Remember. If you believe you can or you believe you can't… either way. You're right.
Apr 19
Ablum title track to "Without a Light" up now! -
Reno natives Wayward are just about done with their newest rock installment titled "Without a Light". The title track has just been posted to their Myspace page. Go take a listen. More from Wayward soon!!! click here to listen now!!!
Apr 18
Note for today:
Stop pretending. Stop trying and just do. It's that easy. Sure you may get mixed results but how would you know otherwise? With the experience comes the wisdom of how to handle the next experience. Go ahead, challenge your self.
Apr 12
Yes it's true. (via caldecotttunnel)
Apr 07
Today trying to buy tacos.
Clerk: Hi can I help you?
Me: Hi how are you? I'd like to get the five tacos for $3.99 deal
Clerk: Okay, so you're hungry?
Me: No I just figured I'd buy some tacos.
Clerk: oh okay, so you want those with chicken or carne asada?
Me: (Thinking to myself) wow...
Apr 01
Yeah EMI is falling. So what… (rant)
EMI is in the shit and I couldn't care less.
I have been in this for ten years and watched the industry fall apart slowly for most of it. So many so called "industry professionals" that adhere to the notion of "keeping the industry alive"… ok, by keeping the dinosaurs kicking?
In my opinion as slanted as it may be (and rightfully so) EMI should fail. Why keep these bloated archaic companies operating like it's the hay day of music? I think that we have to stop bailing big companies out like it's ok to do terrible business.
Why should a corporation deserve to be around if it can't hold it's own? Especially when the music business is in the fastest stages of evolution in the past six years.
I say let them burn. Now I do find it funny that the banks may take hold of them. Now when our government starts taking control of this sort of IP then it may be time to pick up and run… oh wait, we're already there.
What's with the blind brand loyalty to a company such as EMI anyhow?
Regardless of what happens they're going through this stuff for a reason. They didn't get here just this year and found out they weren't doing a bang up job.
Let's keep leveling the playing field and let these relics go.
Mar 30
Yep :) (via thisischeckmate)
Always blogging cool stuff…
So when will have something make a little sense?
(via thisischeckmate)
[video]
Do not give up. (via thisischeckmate)